Leggs Chorizo Seasoning Blend #111
$7.89
--
Real South Of The Border Flavor!
Purchase Leggs Chorizo Seasoning Blend #111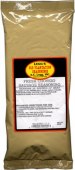 Leggs Old Plantation
Mexican Chorizo Sausage Seasoning
Blend #111
Correctly Seasons 25 Pounds Of Meat
Can Be Used To Make Fresh, Smoked, Or Dried Chorizo Sausage
Leggs Old Plantation Chorizo sausage seasoning can be used to make fresh, smoked, or dried Chorizo. This excellent seasoning blend also works well to flavor beans, chili, and many mexican and southwest style dishes. One bag of seasoning makes 25 pounds of sausage.

Suggested directions for use printed on the label

Blended of Chili Pepper, Salt, Spices, Garlic Powder, Spice Extractives, and less than 2% Tricalcium Phosphate added as an anticaking agent. All natural spices and spice extractives. Contains no MSG, wheat or dairy products.
Meat Cures For Smoked Sausage And Jerky
If you are smoking or processing meats at low temperatures (below 140 degrees F) you must use a sodium nitrite cure. Cure for smoked sausage products are available in pre-measured one ounce packets or by the pound. A one ounce packet of Quick Cure is enough to cure 25 pounds of sausage. Please Visit The Cures Section of our store or see the related products below to order.
Purchase Leggs Chorizo Seasoning Blend #111
Other products in the category Butcher And Meat Processing Supplies / Sausage Making / Seasonings And Ingredients / Sausage & Jerky / AC Leggs Old Plantation Seasonings:


You might also be interested in