Seasonings / Seasonings By Brand / Excalibur Seasonings
Quality Blends From Excalibur Seasonings
Legendary Quality, Royal Flavor
Sausage Seasonings-
Excalibur has been
supplying meat processors across the country with only the finest, high quality and flavorful sausage blends since 1986.
Seasonings-
Excalibur Seasoning offers an abundance of seasoning blends for cooking, BBQ, and outdoor grilling. This line has taken over 25 years to develop with proven performers including new and creative flavors.
Wing Sauces-
The popularity of the chicken wing seems never ending. Recognizing the need for trendy, upscale flavor applications, Excalibur Seasoning Company has introduced a new line of "WING SAUCES"! Excalibur's newest Wing Sauce offerings have fantastic particle definition and suspension of spices with increased viscosity for better adhesion and flavor retention.
The SAUCE-
These high quality and dynamic products feature
new flavors and a rich appearance, this product
line was developed keeping the most current flavor trends in mind.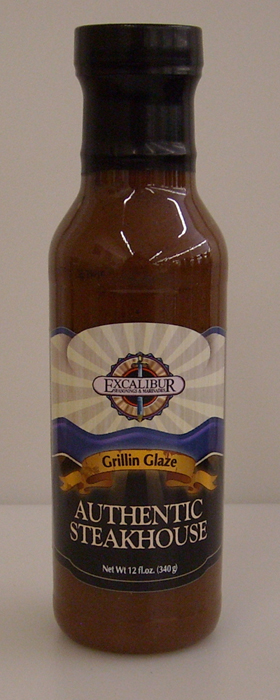 Excalibur "The Sauce" Authentic Steakhouse 12oz -- $5.38
Buy Now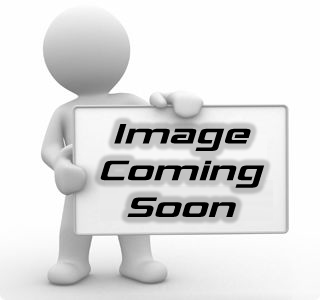 Excalibur "The Sauce" Black Forest Prime Rib 12oz -- $5.77
Buy Now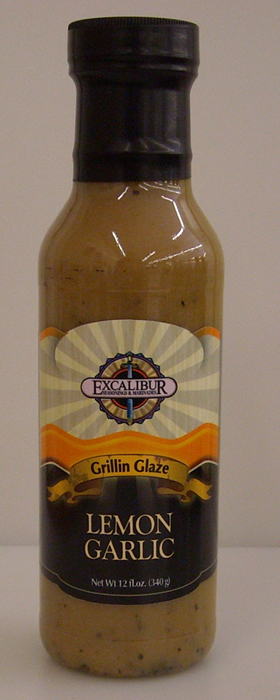 Excalibur "The Sauce" Savory Lemon Pepper 12oz -- $5.38
Buy Now
Excalibur Amish Style Pork Sausage Seasoning -- $2.59
Buy Now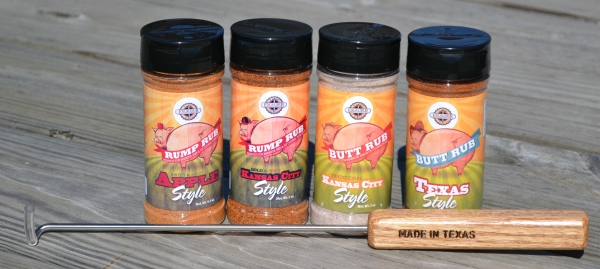 Excalibur BBQ Collection -- $30.00
Buy Now
Excalibur BBQ Seasoning 6 Ounce -- $3.50
Buy Now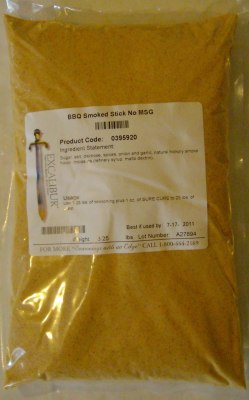 Excalibur BBQ Snack Stick Seasoning -- $15.66
Buy Now
Excalibur Blackened Cajun Seasoning 6 oz -- $3.50
Buy Now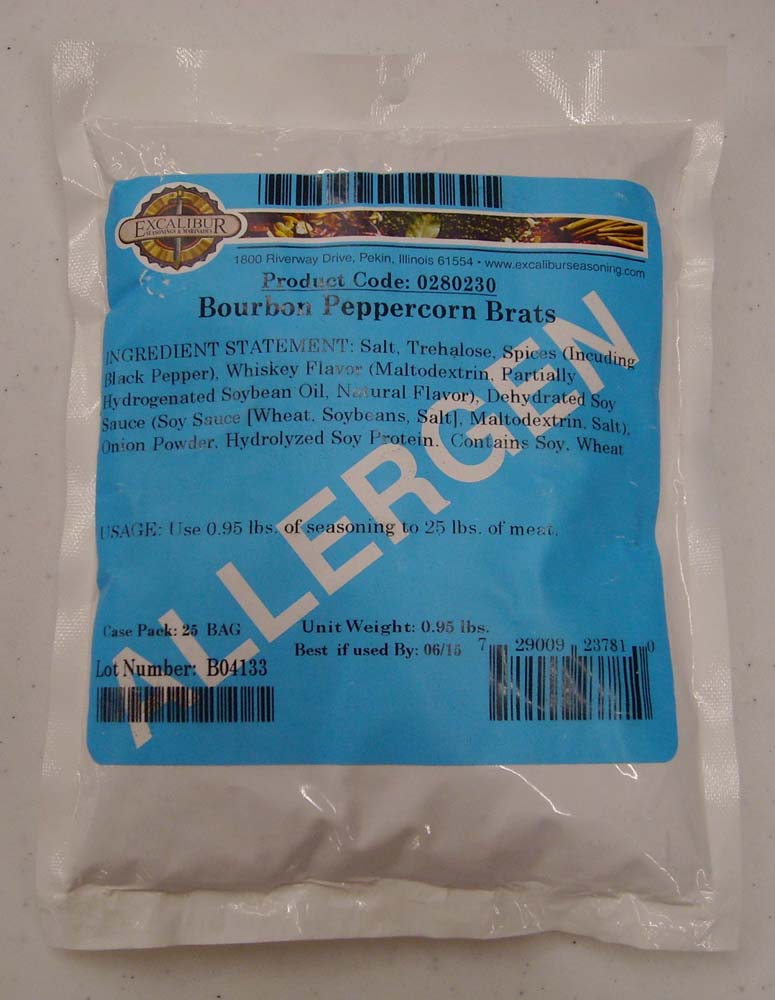 Excalibur Bourbon Peppercorn Bratwurst Seasoning -- $11.36
Buy Now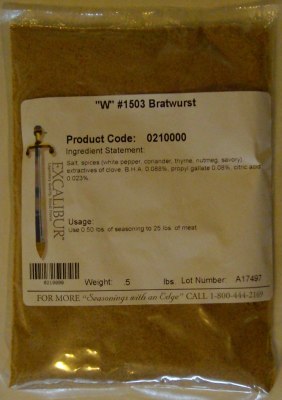 Excalibur Bratwurst Seasoning #1503 -- $4.43
Buy Now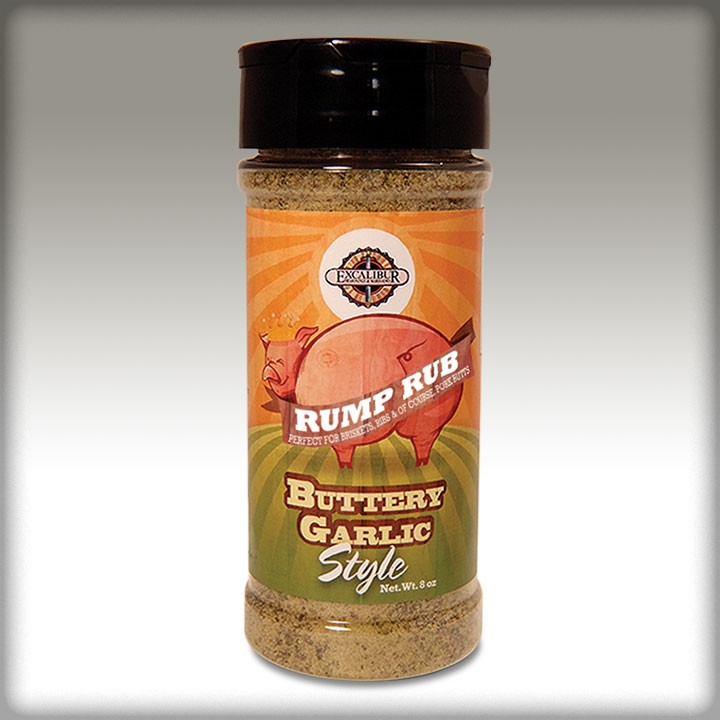 Excalibur Buttery Garlic Rump Rub 8oz -- $3.85
Buy Now
Excalibur Cajun Seasoning & Rub 6 Ounce -- $3.50
Buy Now
Excalibur Chili Bratwurst Seasoning -- $10.79
Buy Now
Excalibur Chipotle Pepper 5.5oz -- $3.50
Buy Now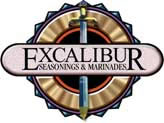 Excalibur Country Style Pork Sausage Seasoning -- $2.98
Buy Now
Excalibur Country Style Pork Sausage Seasoning NO MSG 10oz -- $4.85
Buy Now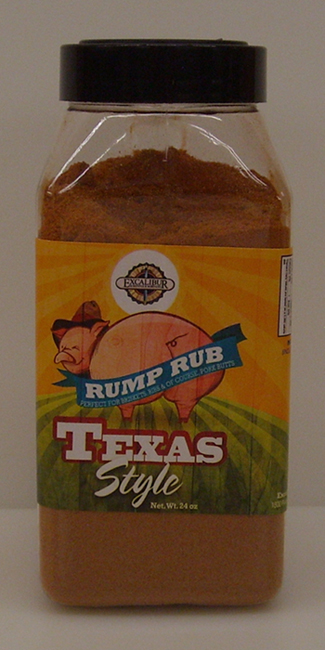 Excalibur Down Home Texas Style Rump Rub 24 oz -- $15.36
Buy Now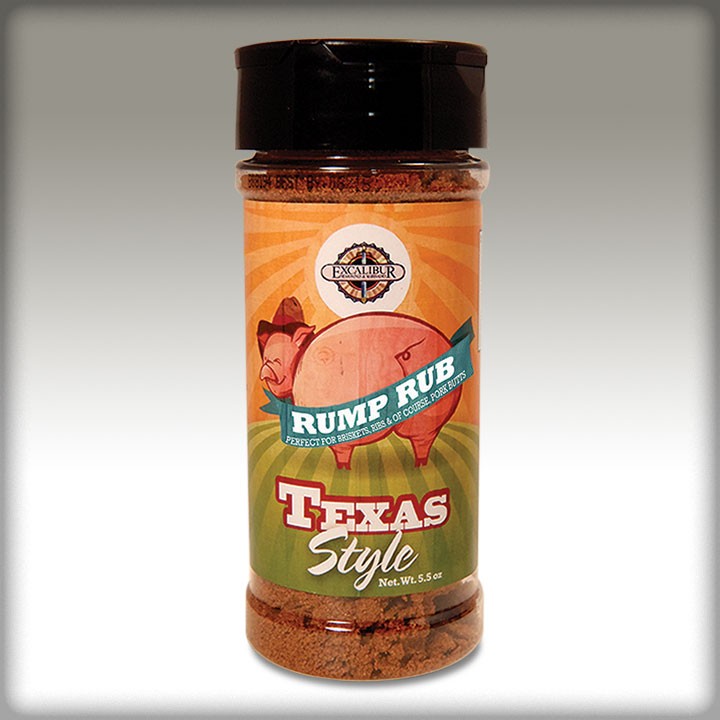 Excalibur Down Home Texas Style Rump Rub 5.5oz -- $3.75
Buy Now
Excalibur Grill In - Grill Out Seasoning 8oz -- $3.50 -- Grill Flavor Without The Grill!
Buy Now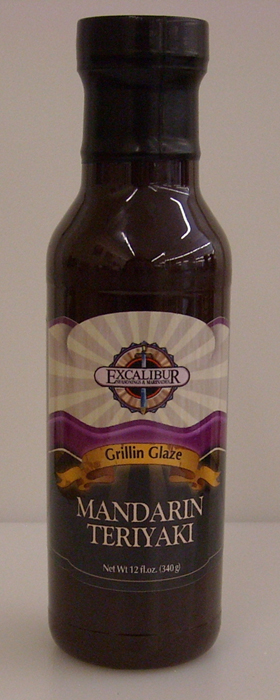 Excalibur Grillin Glaze Mandarin Teriyaki Marinade 12oz -- $5.38
Buy Now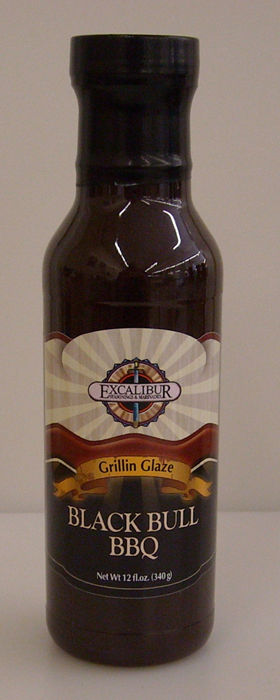 Excalibur Grillin Glaze Pa's Black Bull Marinade 12oz -- $5.38
Buy Now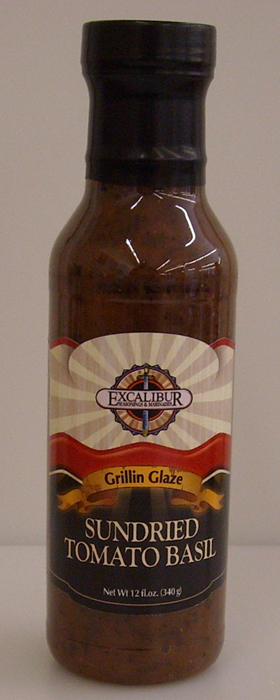 Excalibur Grillin Glaze Sundried Tomato Basil 12oz -- $5.38
Buy Now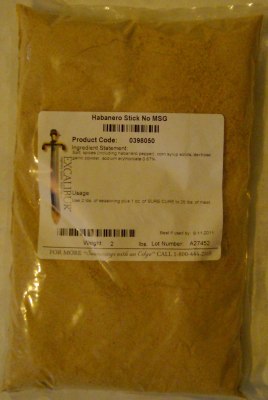 Excalibur Habanero Fire Sticks Seasoning -- $17.35
Buy Now
Excalibur Hickory Char & Thyme 6 oz -- $3.50
Buy Now
Excalibur Hot Buffalo Wing 5.5oz -- $3.50
Buy Now
Excalibur Imitation Bacon Unit 100 -- $18.95 -- Make Venison Bacon!
Buy Now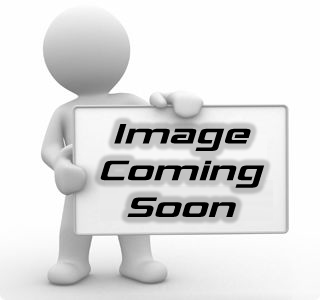 Excalibur Imitation Bacon Unit 25 -- $7.38 -- Make Venison Bacon!
Buy Now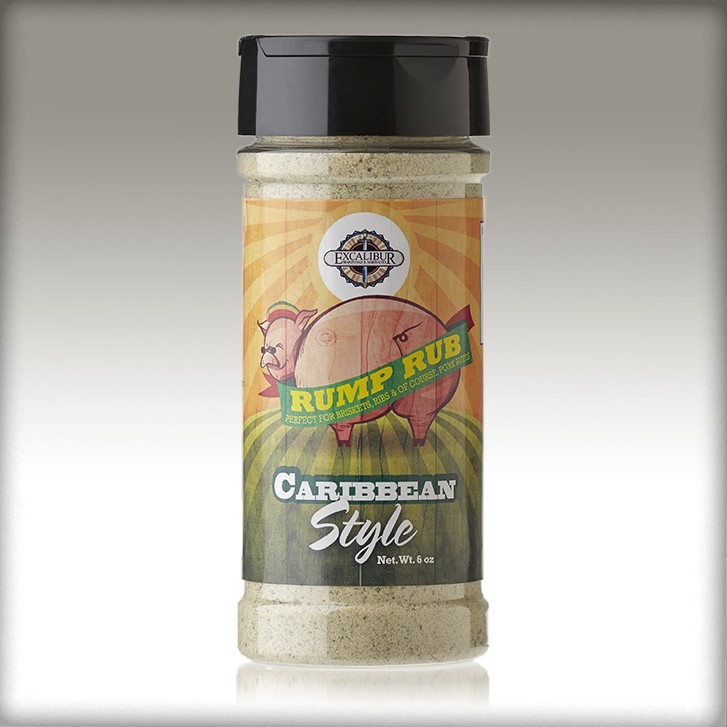 Excalibur Island Special Caribbean Style Tropical Rump Rub 6oz -- $3.75
Buy Now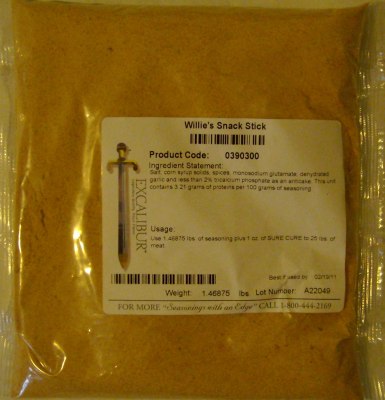 Excalibur Jerky Seasoning For 25 Pounds -- $3.95
Buy Now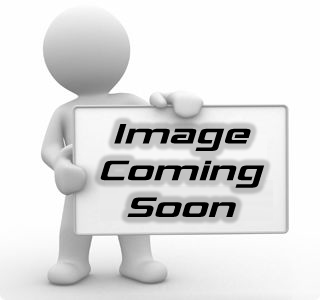 Excalibur Kansas City Style Bold and Spicy Rump Rub 30 oz -- $15.36
Buy Now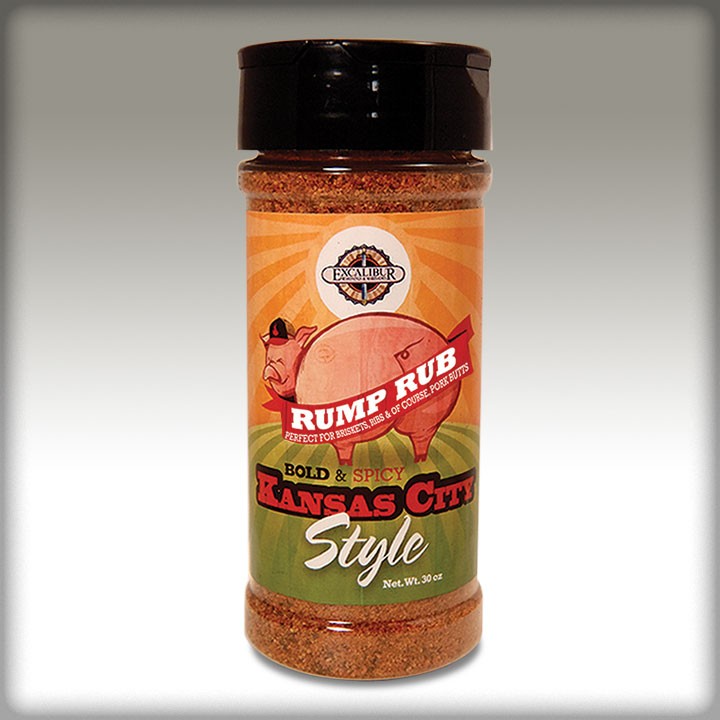 Excalibur Kansas City Style Bold and Spicy Rump Rub 7oz -- $3.75
Buy Now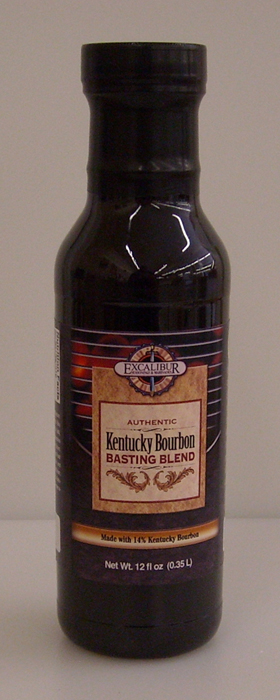 Excalibur Kentucky Bourbon Basting Blend 12oz -- $6.41
Buy Now
Excalibur Kentucky Bourbon Wing Sauce 12 Ounce -- $6.41
Buy Now
Excalibur Meat Marinade Seasoning 6 Ounce -- $3.50
Buy Now
Excalibur Pork Sausage Seasoning Blend 109 -- $1.29
Buy Now
Excalibur Poultry Seasoning 5.5 Ounce -- $3.50
Buy Now
Excalibur Prime Rib Rub 6 Ounce -- $3.50
Buy Now
Excalibur Salami Seasoning No MSG Unit Seasons 25 Pounds -- $6.78
Buy Now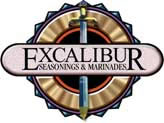 Excalibur Salami Seasoning Seasons 100 LB -- $15.80
Buy Now
Excalibur Sizzlin Green Chili Wing Sauce 12 Ounce -- $5.38
Buy Now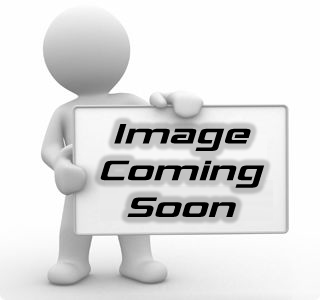 Excalibur Smoked Roastis Cheddarwurst Seasoning 25 LB Unit -- $9.35
Buy Now
Excalibur Smoked Sea Salt 8oz -- $3.50
Buy Now
Excalibur Smokey Habanero Chipotle Wing Sauce 12 Ounce -- $5.38
Buy Now
Excalibur Sweet & Sassy Garlic Seasoning & Rub 6 Ounce -- $3.50
Buy Now
Excalibur Sweet and Sassy Apple Rump Rub 28 oz -- $15.36
Buy Now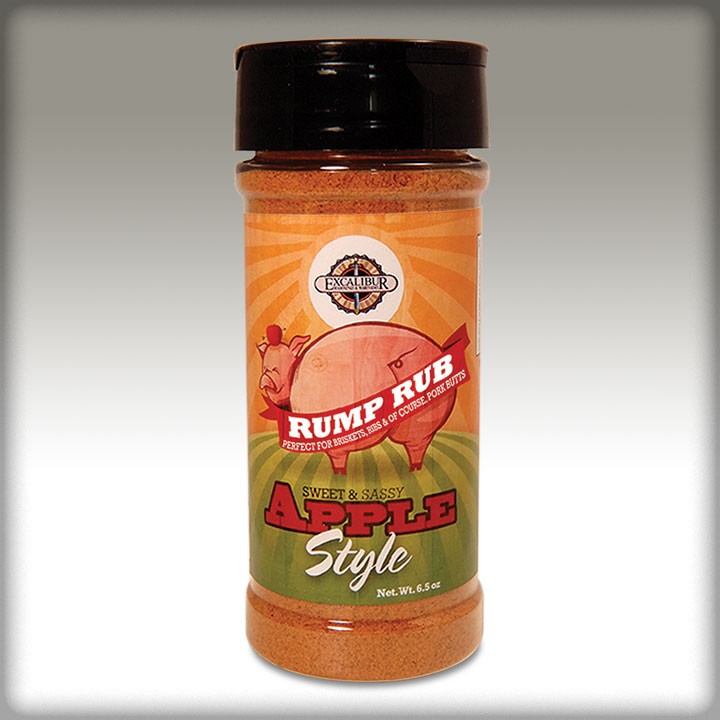 Excalibur Sweet and Sassy Apple Rump Rub 6.5oz -- $3.75
Buy Now
Excalibur Sweet Southern Molassess Wing Sauce 12 Ounce -- $5.38
Buy Now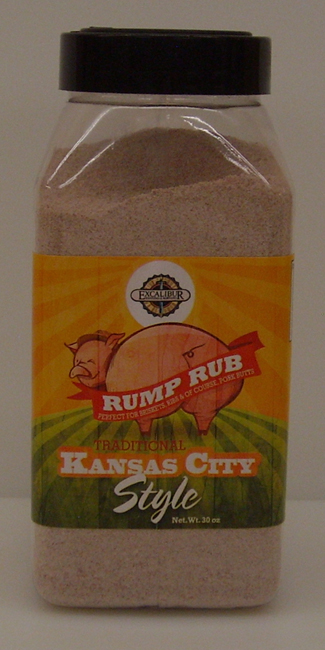 Excalibur Traditional Kansas City Style Rump Rub 30 oz -- $15.36
Buy Now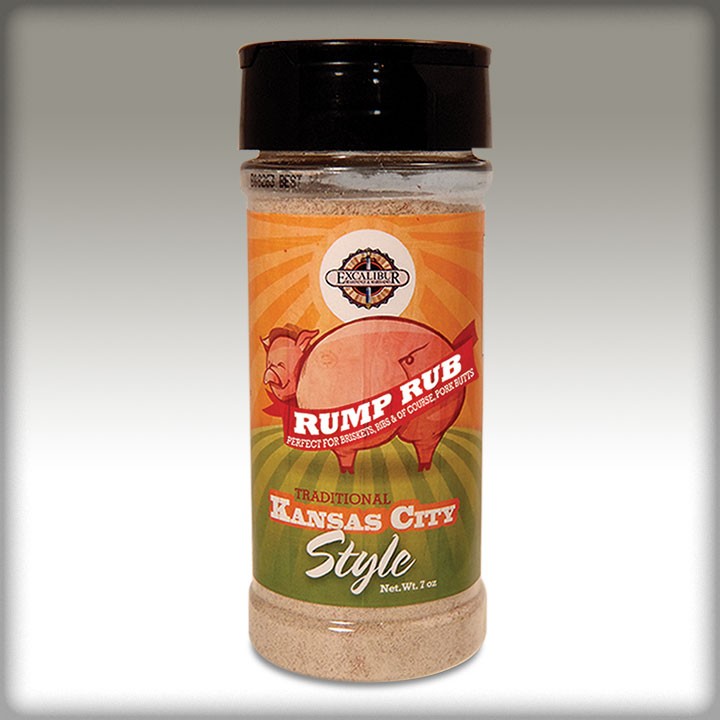 Excalibur Traditional Kansas City Style Rump Rub 7oz -- $3.75
Buy Now
Excalibur Ultimate Steak & Roast Rub 7 Ounce -- $3.50
Buy Now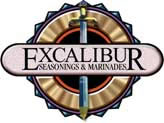 Excalibur W Bologna Frank No MSG Seasons 25 Pounds -- $5.70
Buy Now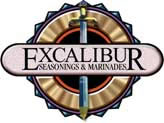 Excalibur W Bologna Frank Seasons 100 Pounds -- $17.62
Buy Now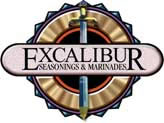 Excalibur W Summer Sausage Seasons 100 Pounds -- $18.95 -- Available for 25 LB or 100 LB Batches
Buy Now
Excalibur W Summer Sausage Seasons 25 Pounds -- $5.77
Buy Now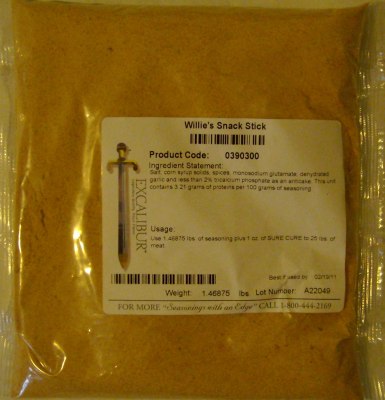 Excalibur Willie's Snack Stick Seasoning 100 LB Unit -- $21.91
Buy Now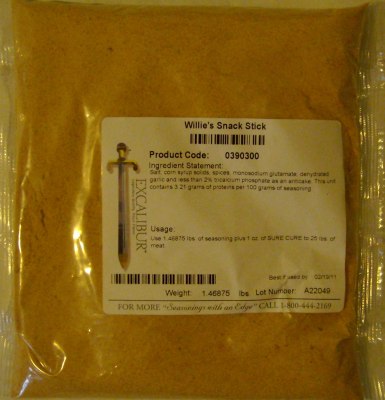 Excalibur Willie's Snack Stick Seasoning 25 LB Unit -- $7.12
Buy Now
StoreFront
|
Meat & Food Equipment
|
Seasonings
|
Personal Safety
|
BBQ & Cooking
|
Band Saw Blades
|
Packing Supplies
|
Home Brew Supplies
|
Curing & Smoking Supplies
|
Cutting Boards
|
Cutlery & Butcher's Tools
|
Meat Totes
|
Lubricants
|
Sausage Making Kits
|
Thermometers
|
Sale Items
|
Sausage Casings
Butcher, sausage, jerky, meat cutting, processing, and packing supplies for the professional or home butcher
Southern Indiana Butcher Supply
eCommerce Platform
by Nexternal